We had an early start this morning and climbed up to a high point of 4200m with hopes of seeing Xixabangma in the distance. The weather was good for a change and it was actually cool rather than freezing for once. Unfortunately though, we were unable to see Xixa due to clouds in the distance. Oh well, always another time.
Even though it was our first time up at that altitude for this expedition and having not had much rest, I thought the team did great! We made the ascent in good time, none the worse for wear and in really good spirits. =)
At the top, we staged a couple of (in our opinion) hilarious "lifestyle in the mountains" type photographs to show off our sponsored marmot gear in publicity shots as part of our sponsorship duties. That, coupled with the 200 postcards we've been signing, has upped the ante on our amazing superstar status. Hurhur.
Speaking of postcards, we're sending out about 200 totally gorgeous postcards specially designed by Esther, to sponsors, friends and supporters of the team, so look out for yours in the mail if you're related to us in some way! =)  
So life on the climb has been good so far and now that the rain has cleared, our remaining gripe has to be the permeating smell of pee and poop that pervades our lodge. Someone had the brilliant idea of building a really basic, non-flush, no-proper-door squat toilet on the ROOF. Why on earth pee and poop are made to flow through the building into the sewers, is anyone's guess. As a result, the entire lodge smells like pee and poop. The only place safe from olfactory suicide is our room and that's only cuz the smell of our accumulated grime masks everything else. Anyway, rather than whinge about the permanent stench, it has become a source of mirth whenever we attempt to make the distance from lodge entrance to room in the shortest time possible,.all the while trying not to breathe in the noxious fumes. The collective ability to laugh at almost everything keeps us all sane.
And we are officially scaring everyone with our power eating. We actually eat more than a table of Sherpas or caucasians. Never let it be said that girls eat less than guys. I suspect that after our climb, we'll each be eating rice straight from the giant serving bowl. I've got to say, being on a climb is a ticket to unrestricted eating, cuz the physical exertion, altitude and cold burns much more than we can humanly eat anyway. After yesterday's first acclimatization climb, we ate 3 heaped plates of fried potatoes alone, and that's just one dish out of 6.
So it's on to Tingri tomorrow via 4WD. We'll be there for two days and following that, we'll arrive at base camp, where the next blog update will be made. In the meantime, do check out the team's expedition progress update at www.humanedgetech.com/expedition/swe1 for more info on how we're doing.
Hope everyone's great in Singapore!
xoxo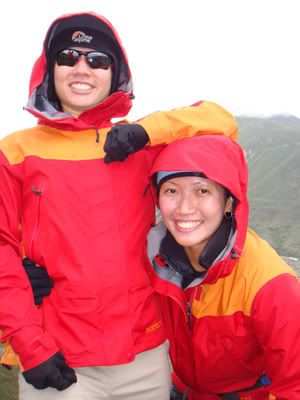 yihui and jane at 4200m! =)